Car-Part Pro Features
SmartVin
---
SmartVin is technology exclusive to Car-Part.com products, and it has the power to make your searches faster, easier, and more accurate. A vehicle's model and year often don't offer enough information to figure out exactly which part you need. If you instead enter a VIN during your Car-Part Pro search, SmartVin decodes that VIN and can usually determine exactly which part your vehicle needs, bringing you right to the search results.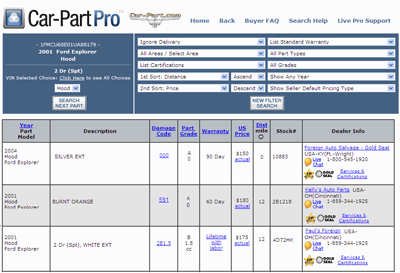 If we can't figure out exactly which part you need, SmartVin can still reference our interchange information to simplify the search by narrowing the choices on the part selection screen. For example, on the left is the part selection screen for someone who is searching for a 2004 Ford Focus transmission but
did not
enter a VIN. On the right is the part selection screen for someone who
did
enter the VIN and allowed SmartVin to limit interchange choices.
Local Delivery Times
---
We know how important cycle time is to your profitability, so Car-Part Pro includes accurate local delivery dates for all parts.
Car-Part.com provides industry-leading products and services to automotive recyclers. Our exclusive configuration tool allows recyclers to input where and when they deliver locally, and specify how long it takes to dismantle and prepare each type of part. We combine this with the information we have about where each part is in the workflow at each recycling facility to produce accurate local delivery times in Car-Part Pro. If a recycler who has the part you need doesn't deliver to your area, we'll still show you that part if we know a closer facility can pick it up and get it to you by your deadline.
If you need a part that isn't delivered locally, please use the
Ignore Delivery
filter. When you find a part that fits your needs, use the
Live Service
feature to contact those recyclers who have the part about shipping charges.
Warranties
---
Many auto recyclers offer warranties that are similar to the warranties on new OE parts. Car-Part Pro allows you to search only for parts with warranties that meet your standards, whether that means a parts-only warranty, a parts-and-labor warranty, or even a lifetime warranty. Plus, the Car-Part Pro search results page displays laid-in prices. Both warranty and local delivery are included in the price, allowing you to evenly compare your options.
Certifications
---
Car-Part Certification levels are awarded to recyclers in our database who meet certain requirements. In your Car-Part Pro search results, these recyclers will have a Gold, Silver, or Bronze star next to their names. These certification levels allow you to identify highly rated recyclers at a glance, and make it easier to buy from a seller you haven't worked with before.
You can read more about specific certification requirements here
.
Live Service
---
While you are reviewing search results, you can click on Live Service at any time to instantly communicate with a recycler about a part or service you want. Get an immediate answer to a question or arrange a purchase without ever picking up a phone or opening an email! You can also use Live Service to create a written record of your conversations.
Integration
---
Car-Part Pro currently integrates with NuGen IT and Mitchell RepairCenter, and are actively working with other software providers to integrate Car-Part Pro into their products. We also have an easy-to-use third-party interface that software providers can use to integrate Car-Part Pro into your workflow. To integrate with Car-Part Pro, talk to your software provider or call us at 859-344-1925 or email
Integration@Car-Part.com
for more information.
More vendors coming soon.
Want to know more?
Call us at
859-344-1925
859-344-1925
to speak to a Car-Part Pro expert about how Car-Part Pro can fit into your workflow, saving you time and money.